When you have parting line flash the length of the Mississippi River, these deflashing methods are your best bet.
Have another method suitable for large plastic parts? Leave it in the comments below! Or let us know directly!
For the purpose of this article, we will define large parts as having a dimension 20″ or greater. The following are feasible deflashing techniques for these flashed plastic parts:
Manual cutting and trimming
Though not pretty or technologically impressive, manual trimming has long been a reliable
means of deflashing plastic parts. Most molders at some point have resorted to this method and never has one complained that production was delayed by a mechanical failure of their X-ACTO knife or deburring tool.
Quality?
The answer to this question can vary greatly depending on the part, the trimming tools used, and the care or negligence of the operator. Most parts can be successfully deflashed with trimming tools and an attentive hand. However, carelessness can lead to scratching or gouging which leads to scrap.
Cost? 
At quick glance, manual cutting has by far the lowest deflashing cost. Most deflashing and deburring tools can be bought for <$20. However, manual deflashing can be accompanied by high labor hours which can quickly make this process costly. Another hidden cost is scrap as mentioned above. This cost can be significant when molding with expensive materials.  Nonetheless, manual deflashing can be cost-effective for low volume runs or when cheap labor is available.
Turnaround
Properly deflashing large parts with cutting tools can take time. For higher volumes, numerous personnel will need to be dedicated to this process in order to keep up with production. However, for prototype runs this process can be sufficient.
Pros:
Cheap equipment cost
Reliable
Can yield acceptable flash tolerances with an attentive operator
Cons:
Labor intensive
Potential for human error leaves chance for gouging and scrap
Time consuming. Not a good fit for high volume.
Dry Ice Deflashing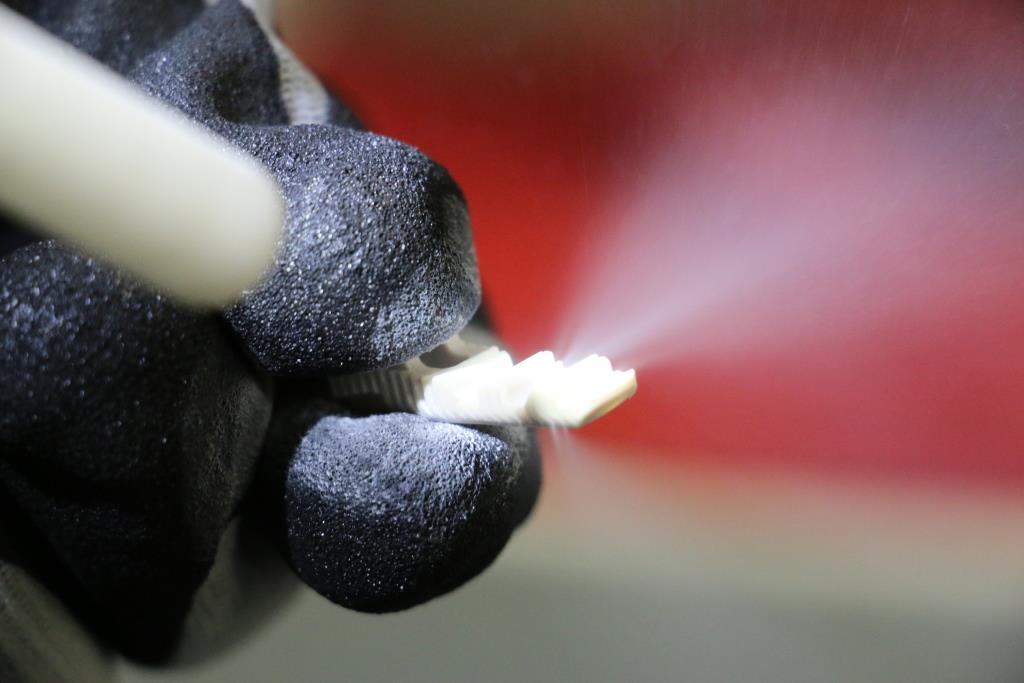 Dry ice deflashing utilizes shaved dry ice particles as a blast media to freeze and remove residual flash. See the process here.  
Quality?
T
Cost? 
Though more expensive than batch processes, dry ice can usually compete with or beat out manual trimming costs due to it's quick deflashing rate. Dry ice can often clean three to four times the rate of conventional cutting with that gap growing even wider for large, time consuming parts.
Turnaround
P
Pros:
Offers fastest manual piece by piece clean
Non-abrasive
Yields tight cleans
Low operating cost
Cons:
Expensive equipment cost
Requires dry ice media which, due to sublimation, can only be stored up to 5-7 days